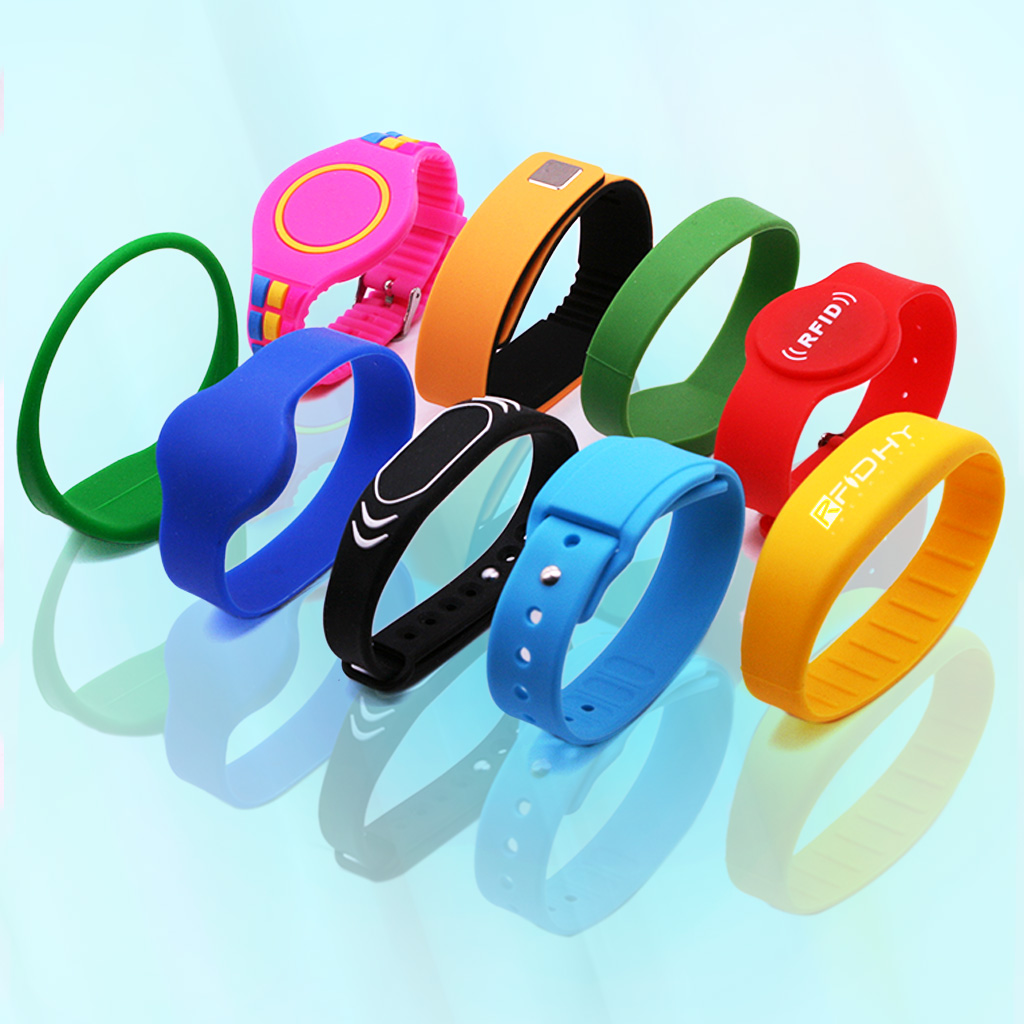 Passive RFID wristbands, also called RFID bracelets, durable and convenient in use. It can be reused, it is a good solution for the RFID access control and membership expenditure management, the tag is complete water-proof so especially suitable for amusement parks, water parks, resorts, and music festivals that increase guest spending, enhance park efficiency, and boost guest loyalty.
Leave your contact detail now to get the latest price! 
Features
| | |
| --- | --- |
| 1. Materials | Silicone |
| 2. Dimension | Diameter 45mm/50mm/60mm/65mm/74mm, or customized |
| 3. Chip Available | TK4100, EM4200, Hitag2, F08, MIFARE 1K, MIFARE 4K, MIFARE Ultralight, MIFARE DESFire EV1, I CODE SLI, Alien H3, Alien H4, Monza 4/5/6, etc. |
| 4. Protocal | ISO11784/ ISO14443A/ ISO15693/ IS18000-6B/ EPC C1 GEN2 |
| 5. Frequency | LF, HF, UHF or LF+HF, HF+UHF, LF+UHF |
| 6. Crafts | Barcode, QR Code, Debossing, Embossing, etc. |
| 7. Protection | Waterproof |
| 8. Printing | Silkscreen, Laser |
| 9. Colours | Red, Blue, Yellow, Orange, White, Green, Purple or any pantone color or multi-colors or customized. |
| 10. Main Features | Soft, Flexible, Convenience Wearing, Waterproof, Quakeproof, etc. |
| 11. Application | Water Parks, Theme Parks, Concerts/Festivals, Resorts, Nightclubs, Sporting Venues, etc. |
RFID wristband is a portable transponder used widely for access control in swimming pools, aqua parks, health and fitness centres or amusement parks. It provides outstanding performance and durability in harsh environmental conditions.
All our rfid wristbands undergo various stringent quality tests throughout the production process.
Available chip technologies
Chip Type
Protocal
Capacity
Anti Collision
Function

Available 125KHz Chip

TK4100
/
64bit
No
Read Only
EM4200
/
128bit
No
Read Only
T5577
/
330bit
No
Read/Write
Hitag 1
ISO 11784/5
2kbit
No
Read/Write
Hitag 2
ISO 11784/5
256bit
No
Read/Write
Hitag S 2048
ISO 11784/5
2kbit
No
Read/Write

Available 13.56MHz Chip

F08
ISO14443A
1KB
No
Read/Write
Ntag203/213/215/216
ISO14443A
168/180/540/924 byte
No
Read/Write
MIFARE® S50
ISO14443A
1KB
No
Read/Write
MIFARE® S70
ISO14443A
4KB
No
Read/Write
MIFARE® Plus
ISO14443A
2KB/4KB
No
Read/Write
MIFARE® DESFire
ISO14443A
 2KB/4KB/8KB
No
Read/Write
MIFARE® Ultralight EV1
ISO14443A
640bit
No
Read/Write
MIFARE® Ultralight C
ISO14443A
1184bit
No
Read/Write
I CODE SLI
ISO15693
  128 byte
Yes
Read/Write
Ti2048
ISO15693
2KB
Yes
Read/Write

Available 860-960MHz Chip

Alien H3
ISO18000-6C
512 bit
Yes
Read/Write
Other ICs are available upon request.