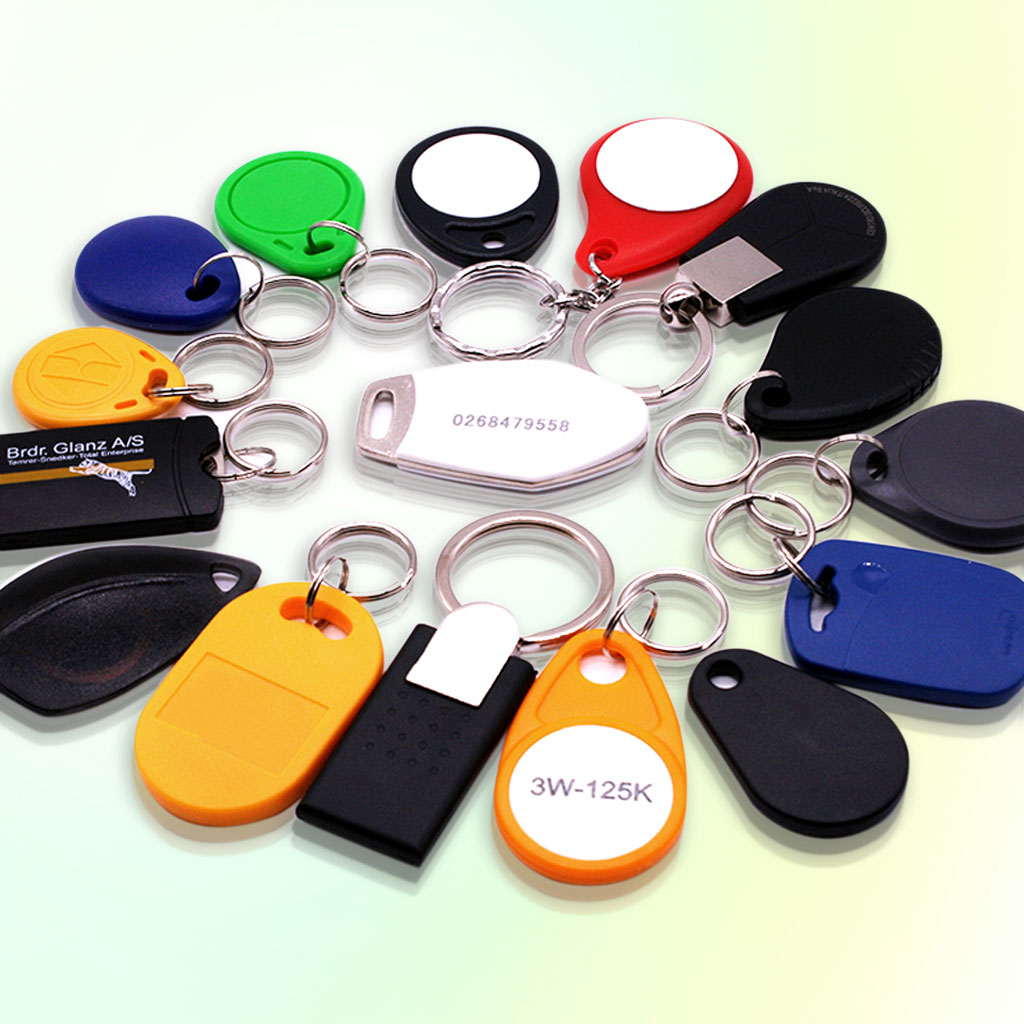 With various RFID chips, we can provide you diverse keyfobs with different shape, color and material (such as ABS, PVC) with solid physical performance.
Besides the depicted parts, RFIDHY has produced customer designed keyfobs with different key rings, metal fittings and other features to match a more individual taste. Enquire for OEM model production conditions.
Leave your contact detail now to get the latest price! 
Features
ABS, PVC, Silicone, Leather, etc.

43.7*30.5*5.3mm, 35.5*28*6.4mm, 40.5*32*4.5mm, 36.52*29.85*7.44mm, 52.22*32.18*5.53mm, 42.88*34.64*5.39mm, 52.22*32.18*5.53mm, or Customized

TK4100, EM4200, Hitag2, F08, MIFARE 1K, MIFARE 4K, MIFARE Ultralight, MIFARE DESFire EV1, NTAG203/213/215/216, I CODE SLI, Alien H3, Alien H4, Monza 4/5/6, etc.

ISO11784/ ISO14443A/ ISO15693/ IS18000-6B/ EPC C1 GEN2

LF, HF, UHF

Silk screen printing, Laser engraved number, Serial number, Spray printed number, Epoxy, etc.

Available

8. Colours

Black, Blue, Green, Red, Yellow, etc.

9. Operating Temperature

−25 ˚C to 50 ˚C

-Resistant to dust, dirt and humidit

-Possibility to combine two technologies in one key fob

-Suitable for indoor and outdoor use

11. Personalization

The rfid key fob can be personalized by full colour printing or long-lasting laser engraving, using your logo, a number or any graphic motive.

Access Control & Security, Loyalty System, Parking Management, Time Attendance, etc.
Product Description
RFID key fob tag is a more convenient and fashionable solution for access control/ staff identification applications. It applies to access control, hotel locks, staff attendance and school campus access and payment control, identification and security systems, parking lot entry and payment, social security management, transportation payment, municipal and ancillary service payment, which make our life safety and convenient.
Despite its exceptional thinness,  rfid keyfob is designed to withstand harsh environment and be easily attachable to an ordinary key-ring. Teardrops keychain present an excellent alternative to contactless cards, finding multiple uses within the access and security areas, as they are efficient, practical, convenient and easy to use.
Available chip technologies
Chip Type

Protocal

Capacity

Anti Collision

Function

Available 125KHz Chip

TK4100

/

64bit

No

Read Only

EM4200

/

128bit

No

Read Only

T5577

/

330bit

No

Read/Write

Hitag 1

ISO 11784/5

2kbit

No

Read/Write

Hitag 2

ISO 11784/5

256bit

No

Read/Write

Hitag S 2048

ISO 11784/5

2kbit

No

Read/Write

Available 13.56MHz Chip

F08

ISO14443A

1KB

No

Read/Write

Ntag203/213/215/216

ISO14443A

168/180/540/924 byte

No

Read/Write

MIFARE® S50

ISO14443A

1KB

No

Read/Write

MIFARE® S70

ISO14443A

4KB

No

Read/Write

MIFARE® Plus

ISO14443A

2KB/4KB

No

Read/Write

MIFARE® DESFire

ISO14443A

?2KB/4KB/8KB

No

Read/Write

MIFARE® Ultralight EV1

ISO14443A

640bit

No

Read/Write

MIFARE® Ultralight C

ISO14443A

1184bit

No

Read/Write

I CODE SLI

ISO15693

? 128 byte

Yes

Read/Write

Ti2048

ISO15693

2KB

Yes

Read/Write
Other ICs are available upon request.