Search RFIDHY History here. Also follow our update by Facebook,Linkedin,Youtube, Twitter. We have 21 years experience and history on RFID products.
1995 Won the Shanghai Metro line 1 project
1996 Put emphsis on RFID solution, such as access control, event management, etc.
2000 Got the CE/RoHs/ISO certification
2005 Set up export department, cooperate with ALIBABA, and MIC
2007 Invest huayuan smart factory to make production process professional and prefect
2008 Donated 5 million to the area of Wenchuan earthquake
2009 Annual output value kept growing 100% per year
2010 Entered into NFC industry
2012 More than 110 countries and regions customers globally
2013 Sales team number increased by 10% annually
2014 Successfully localization in South Amberica and Africa markets
2015 Posted 2 millions NFC products in Kenya transportation field
When the Smart Card industry kicked off in mainland China 20 years ago, RFIDHY were at the forefront. In 1995, we began by producing plastic magnetic cards. We are the first supplier of magnetic cards as the ticket for AFC (Automatic Fare Collection) system for Shanghai Metro No1 line. Our products line covered plastic card, Smart cards, Contactless cards and RFID products with growing of technology and applications in this area.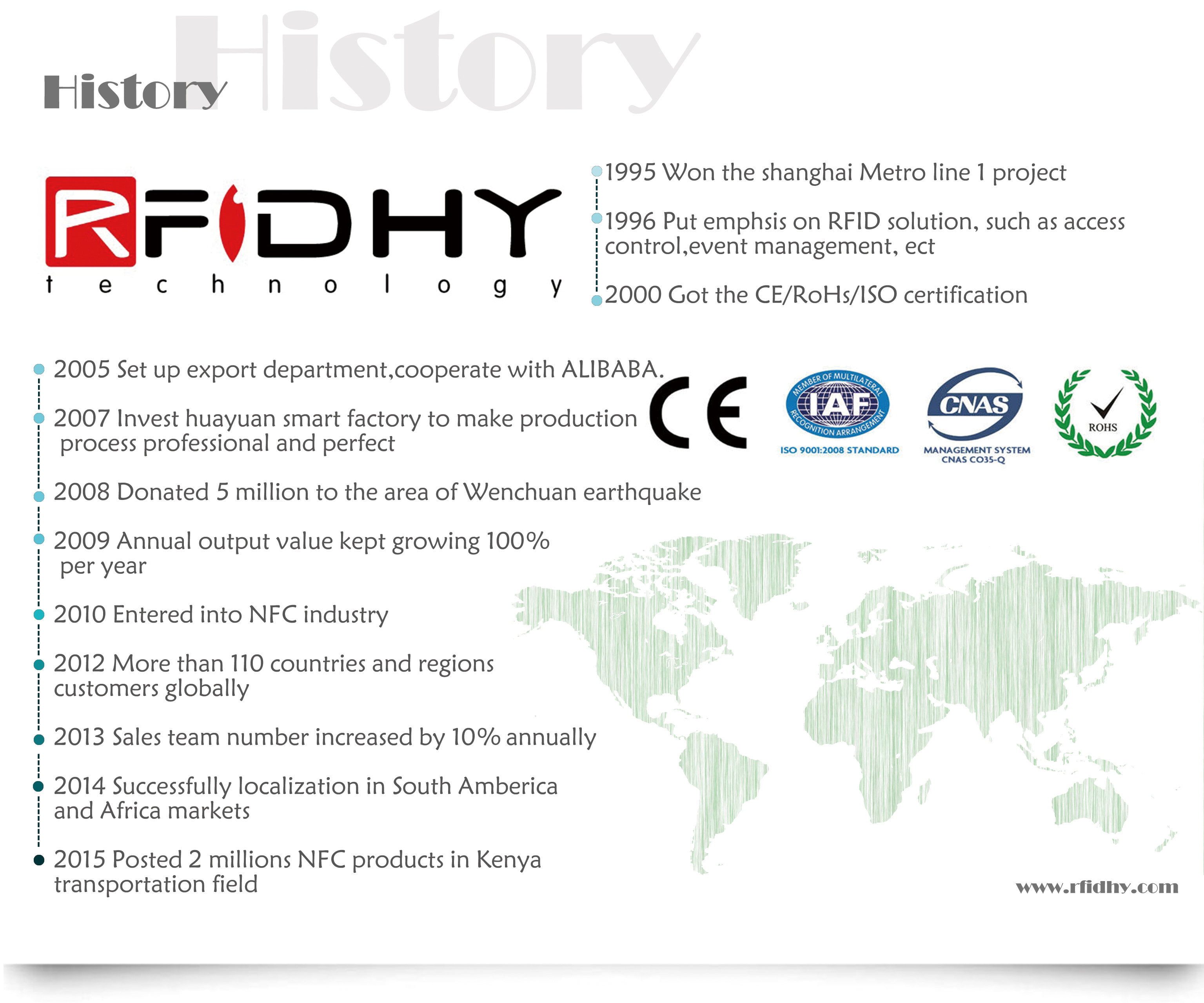 Search RFIDHY for RFID products.
Our RFID products including Card products, Inlay products.  Wristband products, Tag products ect are also avaliable.
Do no hesitate quote us with any Inquiries by http://www.rfidhy.com/contact-us/
We are also in http://www.nfcwork.com/